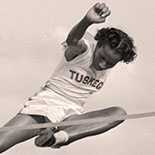 Alice Marie Coachman (November 9, 1923 – July 14, 2014) was an American athlete. She specialized in high jump and was the first black woman to win an Olympic gold medal. In 2002 she was designated a Women's History Month Honoree by the National Women's History Project.
Born in Albany, Georgia, Coachman dominated the AAU outdoor high jump championship from 1939 through 1948, winning ten national championships in a row.
However, she was unable to compete in the Olympic Games as they were cancelled in 1940 and 1944 because of World War II. In the opinion of sportswriter Eric Williams, "Had she competed in those canceled Olympics, we would probably be talking about her as the No. 1 female athlete of all time."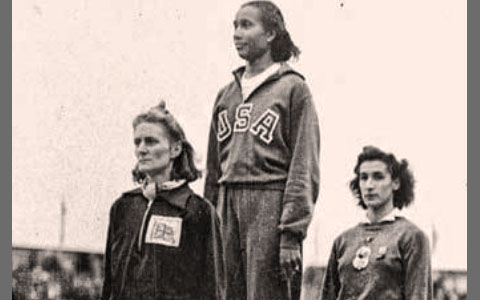 In the high jump finals of the 1948 Summer Olympics, Coachman leaped 1.68 m (5 ft 6⅛ in) on her first try. Her nearest rival, Great Britain's Dorothy Tyler, matched Coachman's jump, but only on her second try. Coachman was the only American woman to win an Olympic gold medal in athletics in 1948. Her medal was presented by King George VI.
Coachman also excelled in the indoor and outdoor 50 m dash and the outdoor 100 m dash. Representing Tuskegee University, Coachman also ran on the national champion 4 x 100-meter relay team in 1941 and 1942. Coachman was an honorary member of Alpha Kappa Alpha Sorority, inducted in 1998 during the sorority's international conference. She was inducted to the USA Track and Field Hall of fame in 1975 and the United States Olympic Hall of Fame in 2004. She died in Albany, Georgia on July 14, 2014 of cardiac arrest after respiratory problems. She also had a stroke a few months prior for which she received treatment from a nursing home.
"I made a difference among the Blacks, being one of the leaders. If I had gone to the games and failed, there wouldn't be anyone to follow in my footsteps."