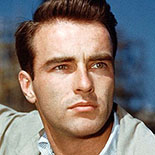 Edward Montgomery (Monty) Clift (October 17, 1920 – July 23, 1966) was an American film and stage actor. The New York Times' obituary of Clift noted his portrayal of "moody, sensitive young men".
He often played outsiders and "victim-heroes"; examples include the social climber in George Stevens's A Place in the Sun, the anguished Catholic priest in Alfred Hitchcock's I Confess, the doomed regular soldier Robert E. Lee Prewitt in Fred Zinnemann's From Here to Eternity, and the Jewish GI bullied by antisemites in Edward Dmytryk's The Young Lions.
After surviving a car crash in 1956, which left his face partially paralyzed and his profile altered, Clift became addicted to alcohol and prescription drugs, leading to his erratic behavior off screen. Nevertheless, he continued his acting career, playing such parts as "the reckless, alcoholic, mother-fixated rodeo performer" in John Huston's The Misfits and the title role in Huston's Freud: The Secret Passion.
In 1961, Clift portrayed Rudolph Peterson, a victim of forced sterilization at the hands of Nazi authorities in the Stanley Kramer film Judgment at Nuremberg, earning a nomination for an Academy Award for Best Supporting Actor.
Clift received four Academy Award nominations during his career, three for Best Actor and one for Best Supporting Actor.