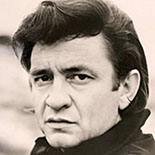 John R. "Johnny" Cash (February 26, 1932 – September 12, 2003) was an American singer-songwriter, actor, and author who was considered one of the most influential musicians of the 20th century.
Although he is primarily remembered as a country icon, his songs and sound spanned other genres including rock and roll and rockabilly—especially early in his career—and blues, folk, and gospel. This crossover appeal won Cash the rare honor of induction in the Country Music Hall of Fame, the Rock and Roll Hall of Fame, and the Gospel Music Hall of Fame.
Cash was known for his deep, distinctive bass-baritone voice, for the "boom-chicka-boom" sound of his Tennessee Three backing band; for a rebelliousness, coupled with an increasingly somber and humble demeanor; for providing free concerts inside prison walls; and for his dark performance clothing, which earned him the nickname "The Man in Black". He traditionally began his concerts with the phrase "Hello, I'm Johnny Cash.", followed by his standard "Folsom Prison Blues".
Much of Cash's music echoed themes of sorrow, moral tribulation and redemption, especially in the later stages of his career.His best-known songs included "I Walk the Line", "Folsom Prison Blues", "Ring of Fire", "Get Rhythm" and "Man in Black". He also recorded humorous numbers like "One Piece at a Time" and "A Boy Named Sue"; a duet with his future wife, June Carter, called "Jackson"; and railroad songs including "Hey, Porter" and "Rock Island Line". During the last stage of his career, Cash covered songs by several late 20th-century rock artists, most notably "Hurt" by Nine Inch Nails.
I hurt myself today
To see if I still feel
I focus on the pain
The only thing that's real
The needle tears a hole
The old familiar sting
Try to kill it all away
But I remember everything[Chorus:]
What have I become
My sweetest friend
Everyone I know goes away
In the end
And you could have it all
My empire of dirt
I will let you down
I will make you hurt
I wear this crown of thorns
Upon my liar's chair
Full of broken thoughts
I cannot repair
Beneath the stains of time
The feelings disappear
You are someone else
I am still right here[Chorus:]
What have I become
My sweetest friend
Everyone I know goes away
In the end
And you could have it all
My empire of dirt
I will let you down
I will make you hurt
If I could start again
A million miles away
I would keep myself
I would find a way