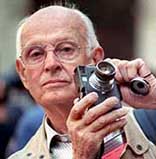 Henri Cartier-Bresson (August 22, 1908 – August 3, 2004) was a French photographer considered to be the father of modern photojournalism.
Cartier-Bresson was an early adopter of 35 mm format, and the master of candid photography. He helped develop the street photography or life reportage style that was coined The Decisive Moment that has influenced generations of photographers who followed.
In 1952, Cartier-Bresson published his book Images à la sauvette, whose English edition was titled The Decisive Moment. It included a portfolio of 126 of his photos from the East and the West. The book's cover was drawn by Henri Matisse. For his 4,500-word philosophical preface, Cartier-Bresson took his keynote text from the 17th century Cardinal de Retz: "There is nothing in this world that does not have a decisive moment". Cartier-Bresson applied this to his photographic style. He said: "To me, photography is the simultaneous recognition, in a fraction of a second, of the significance of an event as well as of a precise organization of forms which give that event its proper expression.".
Both titles came from publishers. Tériade, the Greek-born French publisher whom Cartier-Bresson idolized, gave the book its French title, Images à la Sauvette, which can loosely be translated as "images on the run" or "stolen images." Dick Simon of Simon & Schuster came up with the English title The Decisive Moment. Margot Shore, Magnum's Paris bureau chief, did the English translation of Cartier-Bresson's French preface.
"Photography is not like painting," Cartier-Bresson told the Washington Post in 1957. "There is a creative fraction of a second when you are taking a picture. Your eye must see a composition or an expression that life itself offers you, and you must know with intuition when to click the camera. That is the moment the photographer is creative," he said. "Oop! The Moment! Once you miss it, it is gone forever."
Cartier-Bresson held his first exhibition in France at the Pavillon de Marsan in the Louvre in 1955.