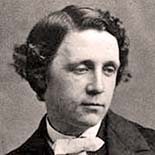 Renowned Victorian author Lewis Carroll was born Charles Lutwidge Dodgson on January 27, 1832, in Daresbury, Cheshire, England.
The son of a clergyman, Carroll was the third child born to a family of eleven children. From a very early age he entertained himself and his family by performing magic tricks and marionette shows, and by writing poetry for his homemade newspapers.
In 1846 he entered Rugby School, and in 1854 he graduated from Christ Church College, Oxford. He was successful in his study of mathematics and writing, and remained at the college after graduation to teach. His mathematical writings include An Elementary Treatise on Determinants (1867), Euclid and His Modern Rivals (1879), and Curiosa Mathematica (1888). While teaching, Carroll was ordained as a deacon; however, he never preached. He also began to pursue photography, often choosing children as the subject of his portraits. One of his favorite models was a young girl named Alice Liddell, the daughter of the Dean at Christ's Church, who later became the basis for Carroll's fictional character, Alice. He abandoned both photography and public speaking between 1880 and 1881, and focused on his writing.
Many of Lewis Carroll's philosophies were based on games. His interest in logic came purely from the playful nature of its principle rather than its uses as a tool. He primarily wrote comic fantasies and humorous verse that was often very childlike. Carroll published his novel Alice's Adventures in Wonderland in 1865, followed by Through the Looking Glass in 1872. Alice's story began as a piece of extemporaneous whimsy meant to entertain three little girls on a boating trip in 1862. Both of these works were considered children's novels that were satirical in nature and in exemplification of Carroll's wit. Also famous is Carroll's poem "Jabberwocky," in which he created nonsensical words from word combinations. Lewis Carroll died in Guildford, Surrey, on January 14, 1898.
BESSIE'S SONG TO HER DOLL
Lewis Carroll
MATILDA JANE, you never look
At any toy or picture-book.
I show you pretty things in vain–
You must be blind, Matilda Jane!
I ask you riddles, tell you tales,
But all our conversation fails.
You never answer me again–
I fear you're dumb, Matilda Jane!
Matilda darling, when I call,
You never seem to hear at all.
I shout with all my might and main–
But you're so deaf, Matilda Jane!
Matilda Jane, you needn't mind,
For, though you're deaf and dumb and blind,
There's some one loves you, it is plain–
And that is me, Matilda Jane!
========
JABBERWOCKY
Lewis Carroll
'Twas brillig, and the slithy toves
Did gyre and gimble in the wabe:
All mimsy were the borogoves,
And the mome raths outgrabe.
"Beware the Jabberwock, my son!
The jaws that bite, the claws that catch!
Beware the Jubjub bird, and shun
The frumious Bandersnatch!"
He took his vorpal sword in hand;
Long time the manxome foe he sought—
So rested he by the Tumtum tree
And stood awhile in thought.
And, as in uffish thought he stood,
The Jabberwock, with eyes of flame,
Came whiffling through the tulgey wood,
And burbled as it came!
One, two! One, two! And through and through
The vorpal blade went snicker-snack!
He left it dead, and with its head
He went galumphing back.
"And hast thou slain the Jabberwock?
Come to my arms, my beamish boy!
O frabjous day! Callooh! Callay!"
He chortled in his joy.
Twas brillig, and the slithy toves
Did gyre and gimble in the wabe:
All mimsy were the borogoves,
And the mome raths outgrabe.