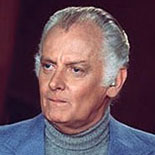 Arthur William Matthew "Art" Carney (November 4, 1918 – November 9, 2003) was an American actor in film, stage, television and radio.
Carney is best known for playing Ed Norton, opposite Jackie Gleason's Ralph Kramden in the situation comedy The Honeymooners, and for winning the Academy Award for Best Actor for his role in Harry and Tonto.
Carney recorded prolifically in the 1950s for Columbia Records. Two of his hits were "The Song of the Sewer", sung in character as Norton, and "'Twas the Night Before Christmas", a spoken-word record in which Carney, accompanied only by a jazz drummer, recited the famous Yuletide poem in syncopation. Some of Carney's recordings were comedy-novelty songs, but most were silly songs intended especially for children. He also narrated a version of The Wizard of Oz for Golden Records, with Mitch Miller and his chorus performing four of the songs from the classic 1939 film version.
He composed the moderate hit "My Love Song To You". A Capitol single by singer Bob Manning, it reached the Cashbox and Music Vendor Top 30 pop charts in early 1955.
In 1974, he won the Academy Award for Best Actor for his performance as Harry Coombes, an elderly man going on the road with his pet cat, in Harry and Tonto. He also appeared in such films as W.W. and the Dixie Dancekings, The Late Show (as an aging detective), House Calls, Movie Movie and Going in Style (as a bored senior citizen who joins in bank robberies). Later movies included The Muppets Take Manhattan (1984) and the thriller Firestarter.
In 1981, he portrayed Harry Truman, an 83-year-old lodge owner in the semi-fictional account of events leading to the eruption of Mount St. Helens, in the movie titled St. Helens. Although he retired in the late 1980s, he returned in 1993 in a minor supporting role in the Arnold Schwarzenegger film, Last Action Hero.