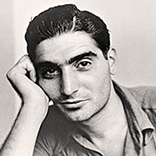 Robert Capa (born Friedmann Endre; October 22, 1913 – May 25, 1954) was a Hungarian war photographer and photojournalist.
Capa covered five different wars: the Spanish Civil War, the Second Sino-Japanese War, World War II across Europe, the 1948 Arab-Israeli War, and the First Indochina War. He documented the course of World War II in London, North Africa, Italy, the Battle of Normandy on Omaha Beach and the liberation of Paris.
In 1947, Capa co-founded Magnum Photos in Paris with David "Chim" Seymour, Henri Cartier-Bresson, George Rodger and William Vandivert. The organization was the first cooperative agency for worldwide freelance photographers.
His younger brother, Cornell Capa, also a photographer, worked to preserve and promote Robert's legacy as well as develop his own identity and style. He founded the International Fund for Concerned Photography in 1966. To give this collection a permanent home, he founded the International Center of Photography in New York City in 1974. This was one of the foremost and most extensive conservation efforts on photography to be developed. Indeed, Capa and his brother believed strongly in the importance of photography and its preservation, much like film would later be perceived and duly treated in a similar way.
The Overseas Press Club created the Robert Capa Gold Medal in the photographer's honor.
Capa is known for redefining wartime photojournalism. His work came from the trenches as opposed to the more arms-length perspective that was the precedent. He was famed for saying, "If your photographs aren't good enough, you're not close enough."
He is credited with coining the term Generation X. He used it as a title for a photo-essay about the young people reaching adulthood immediately after the Second World War. It was published in 1953 in Picture Post (UK) and Holiday (USA). Capa said, "We named this unknown generation, The Generation X, and even in our first enthusiasm we realized that we had something far bigger than our talents and pockets could cope with."