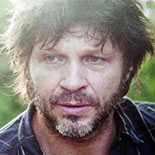 Bertrand Cantat (born March 5, 1964) is a French musician best known as frontman for the rock band Noir Désir.
In 2003, he was convicted for the murder of Marie Trintignant. He returned to Noir Désir after his release from prison in 2007.
After the band disbanded in 2010, he has taken part in the musical collaboration Chœurs with Wajdi Mouawad project Le Cycle des Femmes: Trois histoires de Sophocle and has formed the duo Détroit with Pascal Humbert who had been also part of the Chœurs project.