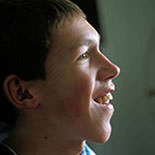 Shane Burcaw, turns his struggle with Spinal Muscular Atrophy into a message of hope.
Shane Burcaw has lived with spinal muscular atrophy for most of his life. The disease prevented his muscles from forming properly as a child, and he has been confined to a wheelchair since the age of two. As he grows older, his mobility is becoming progressively limited, but his desire to make a positive impact continues to grow.
He began writing a blog titled "Laughing At My Nightmare" in 2011. Through it, he shows readers how he uses humor to live each day to the fullest in spite of his disease. The story of how Shane Burcaw's positive attitude turned into the non-profit called Laughing At My Nightmare, Inc.