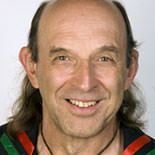 Joseph Bruchac (born October 16, 1942) is a writer of books relating to the Indigenous peoples of the Americas, with a particular focus on northeastern Native American and Anglo-American lives and folklore. He has published poetry, novels, and short stories. Bruchac is from Saratoga Springs, New York, and is of Abenaki, English, and Slovak ethnicity. Among his works are the novel Dawn Land (1993) and its sequel, Long River (1995), which feature a young Abenaki man before European contact.
BIRDFOOT'S GRAMPA
Joseph Bruchac

The old man
must have stopped our car
two dozen times to climb out
and gather into his hands
the small toads blinded
by our lights and leaping,
live drops of rain.
The rain was falling,
a mist about his white hair
and I kept saying
you can't save them all
accept it, get back in
we've got places to go.
But, leathery hands full
of wet brown life
knee deep in the summer
roadside grass
he just smiled and said
they have place to go
too.