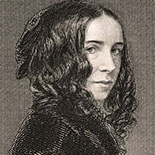 Elizabeth Barrett Browning (March 6, 1806 – June 29, 1861) was one of the most prominent poets of the Victorian era. Her poetry was widely popular in both England and the United States during her lifetime. A collection of her last poems was published by her husband, Robert Browning, shortly after her death.
EARTH'S CRAMMED WITH HEAVEN
Elizabeth Barrett Browning
Earth's crammed with heaven,
and every common bush afire with God;
But only he who sees takes off his shoes;
the rest sit around it and pluck blackberries.
============
PATIENCE TAUGHT BY NATURE
Elizabeth Barrett Browning
'O dreary life,' we cry, 'O dreary life!'
And still the generations of the birds
Sing through our sighing, and the flocks and herds
Serenely live while we are keeping strife
With Heaven's true purpose in us, as a knife
Against which we may struggle! Ocean girds
Unslackened the dry land, savannah-swards
Unweary sweep, hills watch unworn, and rife
Meek leaves drop yearly from the forest-trees
To show, above, the unwasted stars that pass
In their old glory: O thou God of old,
Grant me some smaller grace than comes to these! –
But so much patience as a blade of grass
Grows by, contented through the heat and cold.
=======
WHEN OUR TWO SOULS STAND UP
Elizabeth Barrett Browning
When our two souls stand up
erect and strong,
Face to face, silent, drawing
nigh and nigher,
Until the lengthening wings
break into fire
At either curved point,
—what bitter wrong
Can the earth do us,
that we should not long
Be here contented! Think. In
mounting higher,
The angels would press on us
and aspire
To drop some golden orb of
perfect song
Into our deep, dear silence. Let us stay
Rather on earth, Beloved—where
the unfit
Contrarious moods of men recoil away
And isolate pure spirits, and permit
A place to stand and love in for a day…