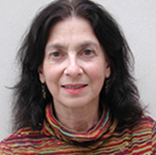 Nina Bogin, American poet, was born January 2, 1954.
She works as a translator of art history and literary criticism and as an English teacher. Her poems have appeared in literary magazines in the United States, England and France. She received a National Endowment for the Arts grant in 1989 and published her first volume of poems, In the North (Graywolf), in the same year.
THE STILLBORN
Nina Bogin
The stillborn have no claim
on this world. They are quiet
and distant, taking care of themselves,
perfect as seashells,
as starfish navigating point by point
along the shallows,
as the smallest seahorses
grazing in the sands.
They have nothing in common with death.
No, it's as if a path
had been traced for them across a clean beach
with footprints ready for them to fall into step,
to walk into the dazzling wind of their lives.
And when they turned back,
remained crustacean,
slowly the footprints unmade themselves
each grain of sand, one after the other,
tumbled back into the sea…