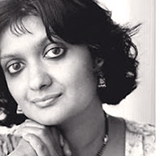 Sujata Bhatt (born May 6, 1956) is an Indian poet, a native speaker of Gujarati.
Sujata Bhatt was born in Ahmedabad, and brought up in Pune, India until 1968, when she emigrated to the United States with her family.
She received the Commonwealth Poetry Prize (Asia) and the Alice Hunt Bartlett Award for her first collection Brunizem. She received a Cholmondeley Award in 1991 and the Italian Tratti Poetry Prize in 2000. Her translations from the German include Mickle Makes Muckle: poems, mini plays and short prose by Michael Augustin (Dedalus Press, 2007). Bhatt was a visiting fellow at Dickinson College, Pennsylvania and currently works as a freelance writer.
She has translated Gujarati poetry into English for the Penguin Anthology of Contemporary Indian Women Poets. Combining both Gujarati and English, Bhatt writes "Indian-English rather than Anglo-Indian poetry."Her poems have appeared in various journals in the United Kingdom, Ireland, the United States, and Canada, and have been widely anthologized, as well as being broadcast on British, German, and Dutch radio.
Many of Bhatt's poems have themes of love and violence. She explores issues such as racism and the interaction between Asian, European, and North American culture.
NOTHING IS BLACK, REALLY NOTHING
Sujata Bhatt
1
nada es negro, realmente nada
So Frida Kahlo wrote
one day in her diary.
But Frida, how black you could paint
your pulled-back hair, your braids,
and the little dark hairs above your lips—
How black your eyes
your eyebrows;
how black the hairs of your monkey
expecially in Fulang-Chang and I.
But nothing is black.
True black that breathes
must shine with blue,
green shadows—some say
a reddish glow means
the color isn't black enough.
2
Then there was elephantinum,
elephant-tusk-black.
For Plinius records the tale
of Appelles, born
around 350 BC, he was
Alexander the Great's blue-blooded court painter—
he was the firsr
to create the color called elephantinum
from fired ivory.
Dry distilled from tusks,
the fat fired out
from the elephant tusks…
and in the end black powder exrtracted,
distilled,
dry, dry…
And you can extract black
out of grape seeds.
And you can extract black
out of wood or gas
or out of that oil hidden deep within
the earth.
How black do you want
your paint?
3
I do not want
to consult the disctionary
for words about black,
I know those one-sided words
already: a black heart, a black mood,
a black day, a blunt black-jack—
I keep brooding instead
over my daughter's love for black—
How when she was not quite three
and the blond children teased her
for having brown hair,
she was only angered
by their inaccuracy.
'This is not brown!' she screamed
holding up a fistful of her hair.
'It's black!
My hair is black, black—
Not brown!'
As if to say
she knew her colors well.
She no longer confused orange with red,
indigo with violet,
or brown with black.
She could understand light green, dark green,
yellow, blue, she learned
the names so quickly.
4
Now I keep turning back to you, Frida—
Nothing is black
but how you loved your black hair
that's not really black
and how many different black strokes
you found (when nothing is black)
to pull out every shade
of blackness
from your hair, your self—