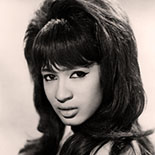 Estelle Bennett (July 22, 1941 – February 11, 2009) was a member of the girl group The Ronettes, along with her sister Ronnie Spector (the 'Ronnie' of the band's name) and cousin Nedra Talley.
After the Ronettes' 1966 break-up, she recorded a single for Laurie Records, "The Year 2000/The Naked Boy." She then quit the music business and had rarely been seen since. She married the group's road manager Joe Dong, and they had a daughter, Toyin.
In 2007, when the group was inducted into the Rock and Roll Hall of Fame, it was decided that she was too fragile to perform with them, and spoke only a brief two sentences during her acceptance speech, "I would just like to say, thank you very much for giving us this award. I'm Estelle of the Ronettes, thank you." She did, however, come back out on stage for a final bow with the rest of the Ronettes after the performance of "Be My Baby".
Bennett died of colon cancer aged 67 in Englewood, New Jersey. Her body was discovered on February 11, 2009. A week after her death it was revealed that she had suffered from anorexia nervosa and schizophrenia in the years after the Ronettes break up and that later on she had been homeless in New York.