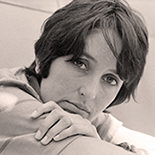 Joan Baez (born January 9, 1941 as Joan Chandos Baez) is an American folk singer, songwriter, musician, and a prominent activist.
Baez began her career performing in coffeehouses in Boston and Cambridge, and rose to fame as an unbilled performer at the 1959 Newport Folk Festival. She began her recording career in 1960, and achieved immediate success. Her first three albums, Joan Baez, Joan Baez, Vol. 2, and Joan Baez in Concert all achieved gold record status, and stayed on the charts of hit albums for two years.
Baez has had a popular hit song with "Diamonds & Rust" and hit covers of Phil Ochs's "There but for Fortune" and The Band's "The Night They Drove Old Dixie Down". Other songs associated with Baez include "Farewell, Angelina", "Love Is Just a Four-Letter Word", "Joe Hill", "Sweet Sir Galahad" and "We Shall Overcome". She performed three of the songs at the 1969 Woodstock Festival, helped to bring the songs of Bob Dylan to national prominence, and has displayed a lifelong commitment to political and social activism in nonviolence, civil rights, human rights and the environment.
Baez has performed publicly for over 55 years, releasing over 30 albums. Fluent in Spanish as well as in English, she has also recorded songs in at least six other languages. She is regarded as a folk singer, although her music has diversified since the 1960s, encompassing everything from folk rock and pop to country and gospel music.
Diamonds & Rust is from a 1975 album, whose title track, is about Bob Dylan.
DIAMONDS & RUST
Joan Baez
Well I'll be damned
Here comes your ghost again
But that's not unusual
It's just that the moon is full
And you happened to call
And here I sit
Hand on the telephone
Hearing a voice I'd known
A couple of light years ago
Heading straight for a fall
As I remember your eyes
Were bluer than robin's eggs
My poetry was lousy you said
Where are you calling from?
A booth in the midwest
Ten years ago
I bought you some cufflinks
You brought me something
We both know what memories can bring
They bring diamonds and rust
Well you burst on the scene
Already a legend
The unwashed phenomenon
The original vagabond
You strayed into my arms
And there you stayed
Temporarily lost at sea
The Madonna was yours for free
Yes the girl on the half-shell
Would keep you unharmed
Now I see you standing
With brown leaves falling around
And snow in your hair
Now you're smiling out the window
Of that crummy hotel
Over Washington Square
Our breath comes out white clouds
Mingles and hangs in the air
Speaking strictly for me
We both could have died then and there
Now you're telling me
You're not nostalgic
Then give me another word for it
You who are so good with words
And at keeping things vague
Because I need some of that vagueness now
It's all come back too clearly
Yes I loved you dearly
And if you're offering me diamonds and rust
I've already paid