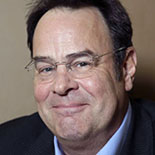 Daniel Edward "Dan" Aykroyd, (born July 1, 1952) is a Canadian-American actor, comedian, screenwriter, and musician.
He is known for being an original member of the "Not Ready for Prime Time Players" on Saturday Night Live (1975–79), as Elwood Blues of The Blues Brothers (with John Belushi), and as Ray Stantz in Ghostbusters (1984) and Ghostbusters II (1989).
He is also an entrepreneur, having co-founded the music venue chain House of Blues in 1992, and the vodka brand Crystal Head Vodka in 2007.
In 1990, he was nominated for the Academy Award for Best Supporting Actor for his work in the 1989 film Driving Miss Daisy.