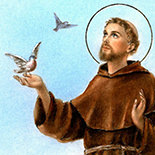 Saint Francis of Assisi (born Giovanni di Pietro di Bernardone, but nicknamed Francesco; 1181 – October 3, 1226) was an Italian Catholic friar and preacher.
Saint Francis founded the men's Order of Friars Minor, the women's Order of St. Clare, and the Third Order of Saint Francis for men and women not able to live the lives of itinerant preachers, followed by the early members of the Order of Friars Minor, or the monastic lives of the Poor Clares. Francis is one of the most venerated religious figures in history.
On July 16, 1228, he was proclaimed a saint by Pope Gregory IX. He is known as the patron saint of animals and the environment, and is one of the two patron saints of Italy (with Catherine of Siena). It is customary for Catholic and Anglican churches to hold ceremonies blessing animals on his feast day of October 4. He is also known for his love of the Eucharist, his sorrow during the Stations of the Cross, and for the creation of the Christmas crèche or Nativity Scene.