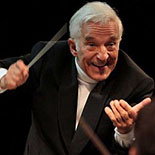 Vladimir Davidovich Ashkenazy (born July 6, 1937) is a Russian-born conductor and pianist of Icelandic citizenship.
He began playing piano at the age of six. He was accepted to the Central Music School at age eight studying with Anaida Sumbatyan. Ashkenazy attended the Moscow Conservatory where he studied with Lev Oborin and Boris Zemliansky.
He won second prize in the International Chopin Piano Competition in Warsaw in 1955 and the first prize in the Queen Elisabeth Music Competition in Brussels in 1956. He shared the first prize in the 1962 International Tchaikovsky Competition with British pianist John Ogdon.
As a student, like many in that period, he was harassed by the KGB to become an "informer". He did not really cooperate, and despite pressures from the authorities, in 1961 married the Iceland-born Þórunn Jóhannsdóttir, who studied piano at the Moscow Conservatoire. To marry Ashkenazy, Þórunn was forced to give up her Icelandic citizenship and declare that she wanted to live in the USSR.