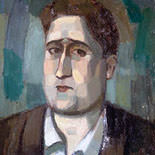 Guillaume Apollinaire (August 26, 1880 – November 9, 1918) was a French poet, playwright, short story writer, novelist, and art critic of Polish descent.
Apollinaire is considered one of the foremost poets of the early 20th century, as well as one of the most impassioned defenders of Cubism and a forefather of Surrealism. He is credited with coining the term "cubism" in 1911 to describe the emerging art movement and the term "surrealism" in 1917 to describe the works of Erik Satie. The term Orphism (1912) is also his. Apollinaire wrote one of the earliest Surrealist literary works, the play The Breasts of Tiresias (1917), which became the basis for the 1947 opera Les mamelles de Tirésias.
Two years after being wounded in World War I, Apollinaire died in the Spanish flu pandemic of 1918; he was 38.
THE BELLS
Guillaume Apollinaire
My gipsy beau my lover
Hear the bells above us
We loved passionately
Thinking none could see us
But we so badly hidden
All the bells in their song
Saw from heights of heaven
And told it everyone
Tomorrow Cyprien Henry
Marie Ursule Catherine
The baker's wife her husband
and Gertrude that's my cousin
Will smile when I go by them
I won't know where to hide
You far and I'll be crying
Perhaps I shall be dying