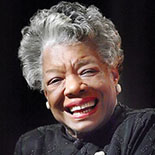 Maya Angelou (born Marguerite Annie Johnson; April 4, 1928 – May 28, 2014) was an African-American author, poet, dancer, actress and singer.
She published seven autobiographies, three books of essays, and several books of poetry, and was credited with a list of plays, movies, and television shows spanning more than 50 years. She received dozens of awards and over fifty honorary degrees. Angelou is best known for her series of seven autobiographies, which focus on her childhood and early adult experiences. The first, I Know Why the Caged Bird Sings (1969), tells of her life up to the age of seventeen and brought her international recognition and acclaim.
She became a poet and writer after a series of occupations as a young adult, including fry cook, prostitute, nightclub dancer and performer, cast member of the opera Porgy and Bess, coordinator for the Southern Christian Leadership Conference, and journalist in Egypt and Ghana during the decolonization of Africa. She was an actor, writer, director, and producer of plays, movies, and public television programs. From 1982, she taught at Wake Forest University in Winston-Salem, North Carolina, where she held the first lifetime Reynolds Professorship of American Studies. She was active in the Civil Rights movement, and worked with Martin Luther King, Jr. and Malcolm X. Beginning in the 1990s, she made around 80 appearances a year on the lecture circuit, something she continued into her eighties. In 1993, Angelou recited her poem "On the Pulse of Morning" (1993) at President Bill Clinton's inauguration, making her the first poet to make an inaugural recitation since Robert Frost at President John F. Kennedy's inauguration in 1961.
With the publication of I Know Why the Caged Bird Sings, Angelou publicly discussed aspects of her personal life. She was respected as a spokesperson for black people and women, and her works have been considered a defense of Black culture. Attempts have been made to ban her books from some U.S. libraries, but her works are widely used in schools and universities worldwide. Angelou's major works have been labeled as autobiographical fiction, but many critics have characterized them as autobiographies. She made a deliberate attempt to challenge the common structure of the autobiography by critiquing, changing, and expanding the genre. Her books center on themes such as racism, identity, family, and travel.
PHENOMENAL WOMAN
Maya Angelou
Pretty women wonder where my secret lies.
I'm not cute or built to suit a fashion model's size
But when I start to tell them,
They think I'm telling lies.
I say,
It's in the reach of my arms
The span of my hips,
The stride of my step,
The curl of my lips.
I'm a woman
Phenomenally.
Phenomenal woman,
That's me.
I walk into a room
Just as cool as you please,
And to a man,
The fellows stand or
Fall down on their knees.
Then they swarm around me,
A hive of honey bees.
I say,
It's the fire in my eyes,
And the flash of my teeth,
The swing in my waist,
And the joy in my feet.
I'm a woman
Phenomenally.
Phenomenal woman,
That's me.
Men themselves have wondered
What they see in me.
They try so much
But they can't touch
My inner mystery.
When I try to show them
They say they still can't see.
I say,
It's in the arch of my back,
The sun of my smile,
The ride of my breasts,
The grace of my style.
I'm a woman
Phenomenally.
Phenomenal woman,
That's me.
Now you understand
Just why my head's not bowed.
I don't shout or jump about
Or have to talk real loud.
When you see me passing
It ought to make you proud.
I say,
It's in the click of my heels,
The bend of my hair,
the palm of my hand,
The need of my care,
'Cause I'm a woman
Phenomenally.
Phenomenal woman,
That's me.
======
SONG FOR THE OLD ONES
Maya Angelou
My Fathers sit on benches
their flesh counts every plank
the slats leave dents of darkness
deep in their withered flanks.
They nod like broken candles
all waxed and burnt profound
they say 'It's understanding
that makes the world go round.'
There in those pleated faces
I see the auction block
the chains and slavery's coffles
the whip and lash and stock.
My Fathers speak in voices
that shred my fact and sound
they say 'It's our submission
that makes the world go round.'
They used the finest cunning
their naked wits and wiles
the lowly Uncle Tomming
and Aunt Jemima's smiles.
They've laughed to shield their crying
then shuffled through their dreams
and stepped 'n' fetched a country
to write the blues with screams.
I understand their meaning
it could and did derive
from living on the edge of death
They kept my race alive.