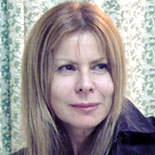 Antonella Anedda, Italian poet, born December 22, 1955.
The poetry of Antonella Anedda, one of the most authoritative and significant voices in contemporary Italian poetry, is marked by a return to the strong and essential themes of contemporary man: human suffering, the sense of the tragic, war, the meditation on time, the destiny of our world. The intensity of her poetry stems from these themes and is profoundly tied to the ethical tension of her writing, where poetic spirit and philosophical questioning are intertwined. But this depth is reconciled with lightness as well, in a poetry that unites the tragic with the joyful, attention to detail with the most acute introspection, pain with the miraculous suspension of all suffering. And beauty is more intense and radiant the closer it is to the dark root of life.
"Reality is not an enduring thing, it needs our protection. Buildings collapse, entire worlds disappear. Language can from time to time dig a hospitable hole, in which nothing is superfluous, it can put up a perimeter fenced within which things and people can breathe side by side, enjoy the light, and survive." Poetry as protection from pain, from the violence in the world, from abandonment, and from the insidious danger of silence that constantly threatens to dissolve our precarious reality and the word.
FOR MY DAUGHTER
Antonella Anedda
I love her fierceness when she fights me,
shouting "Not fair!" Her eyes slitting
like shutters in cities by the sea.
Her life is rife with bonfires—seen and unseen—
fires that burn through the turning years
bringing her to life again, and again, in a miracle of smoke.
This heat gives her a sense of forgiveness—or so I imagine—
she kisses my back, capriciously, when I scold her.
Maybe she recall the scalpel by which she was born.
Easy, the mark of its slash in my skin.
She rose from my belly as I slept. We're bound together
by peace, no shrieks of pain, and my modesty.
We're a canvas by Giovanni Bellini: a virgin and a sweet rabbit.
==========
VENDETTA
Antonella Anedda
What: a pity to die my love. To say: "I don't love you anymore"
with no one listening. What: a shame the irritated voice the haste.
The distance between the first passionate whisper and this new
timbre. How little shame I have. to have killed you and put you here.
beneath the very expanse you created.
The: expanse. Is: a cloth. Is: white. Is: a sheet.
Is: a land on which snow has fallen.
Ssh. you'll be alone there. No longer on top. but. under. as is proper
for the dead, as is proper for seed. and. for lilies yet to sprout.
You'll feel something like moving scratches: those are birds mice my
own bony hands that you adored my tongue with its thirst.
Brr. love. how. painful for me to see you shrunken by this chill so
stripped of your gifts in this tomb where I can't grieve for you
but can only dig down to the earth down to its iron
to the fire that now embraces the earth and celebrates me.