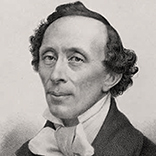 Hans Christian Andersen (April 2, 1805 – August 4, 1875) was a Danish author and poet.
Although a prolific writer of plays, travelogues, novels, and poems, Andersen is best remembered for his fairy tales. Andersen's popularity is not limited to children; his stories—called eventyr, or "fairy-tales"—express themes that transcend age and nationality.
Andersen's fairy tales, which have been translated into more than 125 languages,have become culturally embedded in the West's collective consciousness, readily accessible to children, but presenting lessons of virtue and resilience in the face of adversity for mature readers as well.They have inspired plays, ballets, and both live-action and animated films.
Andersen's stories laid the groundwork for other children's classics, such as Wind in the Willows by Kenneth Grahame and Winnie the Pooh by A.A. Milne. The technique of making inanimate objects, such as toys, come to life (Little Ida's Flowers) would later be used by Lewis Carroll and Beatrix Potter.
April 2, Andersen's birthday, is celebrated as International Children's Book Day.The year 2005, designated "Andersen Year" in Denmark, was the bicentenary of Andersen's birth, and his life and work was celebrated around the world. In Denmark, a well-attended "once is a lifetime" show was staged in Copenhagen's Parken Stadium to celebrate the writer and his stories.
A $13-million theme park based on Andersen's tales and life opened in Shanghai at the end of 2006. Multi-media games and cultural contests related to the fairy tales are available to visitors. Andersen is said to have been celebrated because he was "a nice, hardworking person who was not afraid of poverty".The Japanese city of Funabashi also has a children's theme park named after Andersen.
In the United States, statues of Andersen may be found in New York City's Central Park, Chicago's Lincoln Park, and in Solvang, California, a city founded by Danes. The Library of Congress Rare Book and Special Collections Division was bequeathed an extensive collection of Andersen materials by the Danish-American actor, Jean Hersholt. Of particular note is an original scrapbook Andersen prepared for the young Jonas Drewsen.
THE DYING CHILD

Hans Christian Andersen
Mother, I'm tired, and I would fain be sleeping;
Let me repose upon thy bosom sick;
But promise me that thou wilt leave off weeping,
Because thy tears fall hot upon my cheek.
Here it is cold: the tempest raveth madly;
But in my dreams all is so wondrous bright;
I see the angel-children smiling gladly,
When from my weary eyes I shut out light.
Mother, one stands beside me now! and, listen!
Dost thou not hear the music's sweet accord?
See how his white wings beautifully glisten?
Surely those wings were given him by the Lord!
Green, gold, and red, are floating all around me;
They are the flowers the angel scattereth.
Should I have also wings while life has bound me?
Or, mother, are they given alone in death?
Why dost thou clasp me as if I were going?
Why dost thou press thy cheek so unto mine?
Thy cheek is hot, and yet thy tears are flowing!
I will, dear mother, will be always thine!
Do not sigh thus – it marreth my reposing;
But if thou weep, then I must weep with thee!
Ah, I am tired – my weary eyes are closing –
Look, mother, look! the angel kisseth me!