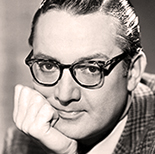 Stephen Valentine Patrick William "Steve" Allen (December 26, 1921 – October 30, 2000) was an American television personality, composer, actor, comedian, and writer.
Though he got his start in radio, Allen is best known for his television career. He first gained national attention as a guest host on Arthur Godfrey's Talent Scouts. He graduated to become the first host of The Tonight Show, where he was instrumental in innovating the concept of the television talk show. Thereafter, he hosted numerous game and variety shows, including The Steve Allen Show, I've Got a Secret, The New Steve Allen Show, and was a regular panel member on CBS' What's My Line?
Allen was a credible pianist and a prolific composer, having penned over 14,000 songs, one of which was recorded by Perry Como and Margaret Whiting, others by Steve Lawrence and Eydie Gorme, Les Brown, and Gloria Lynne. Allen won a Grammy award in 1963 for best jazz composition, with his song The Gravy Waltz. His vast number of songs has never been equaled. Allen wrote more than 50 books, has two stars on the Hollywood Walk of Fame and a Hollywood theater named in his honor.
Steve Allen show, Frank Zappa Playing music on a Bicycle 1963