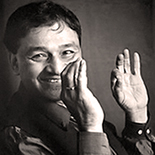 Agha Shahid Ali was born in New Delhi on February 4, 1949. He grew up Muslim in Kashmir. He earned a Ph.D. in English from Pennsylvania State University in 1984, and an M.F.A. from the University of Arizona in 1985.
His poetry collections include A Walk Through the Yellow Pages, The Half-Inch Himalayas, A Nostalgist's Map of America, The Country Without a Post Office, Rooms Are Never Finished (finalist for the National Book Award, 2001). His last book was Call Me Ishmael Tonight, a collection of English ghazals. His poems are featured in American Alphabets: 25 Contemporary Poets (2006) and other anthologies.
STATIONARY
Agha Shahid Ali
The moon did not become the sun.
It just fell on the desert
in great sheets, reams
of silver handmade by you.
The night is your cottage industry now,
the day is your brisk emporium.
The world is full of paper.
Write to me.