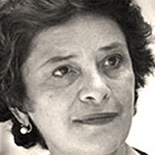 Clara Isabel Alegría Vides, (born May 12, 1924) is a Nicaraguan poet, essayist, novelist, and journalist.
She is a major voice in the literature of contemporary Central America and writes under the pseudonym Claribel Alegría. She was awarded the 2006 Neustadt International Prize for Literature.
Claribel Alegría was born to Nicaraguan and Salvadoran parents in Estelí, Nicaragua. She grew up in the Santa Ana area of western El Salvador, and in 1943 she moved to the United States. In 1948 she received a B.A. in Philosophy and Letters from George Washington University. Throughout her life, Alegría has emphasized her commitment to nonviolent resistance, even during her close association with the Sandinista National Liberation Front (FSLN), the people's movement that took control of the Nicaraguan government in 1979 and overthrew dictator Anastasio Somoza Debayle. In 1985, Alegría returned to Nicaragua to aid in the country's reconstruction.
ARS POETICA
Claribel Alegria
I,
poet by trade,
condemned so many time
to be a crow,
would never change places
with the Venus de Milo:
while she reigns in the Louvre
and dies of boredom
and collects dust
I discover the sun 
each morning
and amid valleys
volcanoes
and debris of war
I catch sight of the promised land.
=========
MORTALLY WOUNDED
Claribel Alegria
When I woke up
this morning
I knew you were
mortally wounded
that I was too
that our days were numbered
our nights
that someone had counted them
without letting us know
that more than ever
I had to love you
you had to love me.
I inhaled your fragrance
I watched you sleeping
I ran the tips of my fingers
over your skin
remembered the friends
whose quota was filled
and are on the other side:
the one who died
a natural death
the one who fell in combat
the one they tortured
in jail
who kicked aside his death.
I brushed your warmth
with my lips:
mortally wounded
my love
perhaps tomorrow
and I loved you more than ever
and you loved me as well.