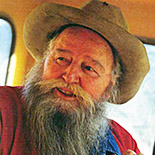 Korczak Ziolkowski (September 6, 1908 – October 20, 1982) was the American sculptor of Crazy Horse Memorial.
In 1939, his marble sculpture of Ignacy Jan Paderewski won first prize at the New York World's Fair. The fame as well as his familiarity with the Black Hills prompted several Lakota Chiefs to approach him about a monument honoring Native Americans.
Chief Henry Standing Bear of the Lakota wrote him, saying, "My fellow chiefs and I would like the white man to know the red man has great heroes, too."
Ziolkowski met with the leaders shortly afterward and began planning a monument. Over the next few years, he conducted research and began planning the sculpture. He also met Ruth Ross, a young art enthusiast, who would later become his second wife. He put the project on hold when the United States entered World War II. He volunteered for service in the United States Army and was wounded in 1944 at Omaha Beach in Normandy.
In 1947 Ziolkowski moved to the Black Hills, and began to search for a suitable mountain for his sculpture. Korczak thought the Wyoming Tetons would be the best choice, where the rock would be better for carving, but the Lakota wanted the memorial in the sacred Black Hills on a 600-foot (180 m)-high mountain. The monument was to be the largest sculpture in the world. When completed, it would be 563 feet (172 m) high by 641 feet (195 m) long. Crazy Horse's head would be large enough to contain all the 60-foot (18 m)-high heads of the Presidents at Mount Rushmore.
On June 3, 1948, the first blast was made, and the memorial was dedicated to the Native American people. In 1950, Ziolkowski and Ruth Ross, who had become a volunteer at the monument, were married. Work continued slowly, since he refused to accept government grants. Instead, he raised money for the project by charging admission to the monument work area.