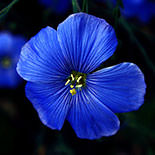 Yang Zi, is a Chinese poet and translator, born 1963.
BLUE FLOWER
Yang Zi
A thousand mountains are suffering from low fever.
Smoke floating in the woods
cannot rise to the sky.
A blue flower stirs on the breeze.
It's talking about its happiness.
It pays no attention to earthly sorrows.