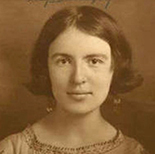 Marya Zaturenska (September 12, 1902 – January 19, 1982) was an American lyric poet, winner of the Pulitzer Prize for Poetry in 1938.
Zaturenska wrote eight volumes of poetry, including the Pulitzer Prize-winning Cold Morning Sky, and she edited six anthologies of poetry.
STRANGE CAPTIVITY
Marya Zaturenska
Never will you depart
Though often cast away,
Unburied in my heart
Wraithlike you stray.
First, tenuous and thin,
Then warmer, closer, deep,
You pierce without, within,
You enter in my sleep.
And higher, higher, till
My blood calms all my breath,
Your resolute, strong will
Leaps through the walls of death.
Spectre, whose radiant eyes
Destroy all life in me,
Let me immortalize
My strange captivity
In thoughts that none will read,
In blood that leaves no strain,
Words spoken to the rain,
Devotion none will heed.
========
SONG OF A FACTORY GIRL
Marya Zaturenska
It's hard to breathe in a tenement hall,
So I ran to the little park,
As a lover runs from a crowded ball
To the moonlit dark.
I drank in clear air as one will
Who is doomed to die,
Wistfully watching from a hill
The unmarred sky.
And the great trees bowed in their gold and red
Till my heart caught flame;
And my soul, that I thought was crushed or dead,
Uttered a name.
I hadn't called the name of God
For a long time;
But it stirred in me as the seed in sod,
Or a broken rhyme.