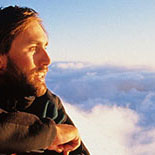 Erik Weihenmayer (born September 23, 1968) is the only blind person to reach the summit of Mount Everest, on May 25, 2001.
He was honored with a Time Magazine cover story. He also completed the Seven Summits in September 2002, joining 150 mountaineers at the time who had accomplished that feat, but the only climber who was blind. In 2008 he also added Carstenz Pyramid in West Papua New Guinea, the tallest peak in Austral Asia, thus completing the more respected Seventh Summit. Weihenmayer has also made noteworthy climbs up the Nose of El Capitan in Yosemite in 1996, and ascended Losar, a 2700-foot vertical ice face in the Himalayas which he ascended in two days, in 2008.
He is the author of Touch the Top of the World: A Blind Man's Journey to Climb Farther Than the Eye Can See, his memoir; and The Adversity Advantage, Turning Everyday Struggles into Everyday Greatness.
As he was going blind from juvenile retinoschesis, Weihenmayer fought against using canes and learning Braille. He wanted to hang on to his life in the sighted world. He eventually turned to wrestling and became a prominent force in high school. He represented Connecticut in the National Junior Freestyle Wrestling Championship in Iowa. At age 16, he started using a guide dog. He tried rock climbing, and found he was a natural at scrambling up a face using his hands and feet to find holds. Then he attended Boston College and graduated with a double major in English and Communications. He became a middle-school teacher Phoenix Country Day School. He also coached wrestling in Phoenix.
Weihenmayer's first big mountain was McKinley (Denali), in 1995. In 2004, with Sabriye Tenberken and six blind Tibetan teenagers, he climbed on the north side of Everest to 21,500 feet, higher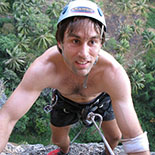 than any group of blind people have ever stood. A documentary based on the project, Blindsight, was released in 2006.
In 2005 Weihenmayer co-founded No Barriers USA (http://nobarriersusa.org/), which helps those with special challenges to live active and purposeful lives. The organization's motto is "What's Within You Is Stronger Than What's In Your Way!" Injured soldiers are a major focus of No Barriers USA.
In 2011, his 3-person team competed on ABC's Expedition Impossible, a race across the deserts and mountains of Morocco, finishing second. He has also completed the Leadville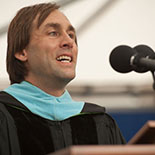 100 Mountain Bike Race, at elevations above 10,000 feet, and Primal Quest, an adventure race over 460 miles with 60,000 feet of elevation gains. In September 2014, he will solo kayak the Grand Canyon, 277 miles from Lee's Ferry to Pierce Ferry. Today, while still adventuring, he is a prominent worldwide speaker, focusing on the topic of using adversity to advantage and living a "No Barriers Life."