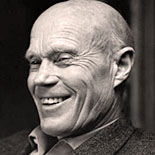 Tarjei Vesaas (August 20 – March 15, 1970) was a Norwegian poet and novelist.
Vesaas is widely considered to be one of Norway's greatest writers of the twentieth century and perhaps its most important since World War II.
Vesaas spent much of his youth in solitude, seeking comfort and solace in nature. He was guilt-ridden by his refusal to take over the family farm, and this guilt permeates much of his authorship. The destruction he witnessed after World War I made a deep impression on him. He married the writer Halldis Moren Vesaas and moved back to his home district of Vinje in 1934.
His authorship covers almost 50 years, from 1923 to 1970. Written in Nynorsk, his work is characterized by simple, terse, and symbolic prose. His stories are often about simple rural people that undergo a severe psychological drama and who according to critics are described with immense psychological insight. Commonly dealing with themes such as death, guilt, angst, and other deep and intractable human emotions, the Norwegian natural landscape is a prevalent feature in his works. His debut was in 1923 with Children of Humans (Menneskebonn), but he had his breakthrough in 1934 with The Great Cycle (Det store spelet). His mastery of the nynorsk language, landsmål (see Norwegian language), has contributed to its acceptance as a medium of world class literature.
The most famous of his works are Is-slottet (The Ice Palace), a story of two girls who build a profoundly strong relationship, and The Birds, a story of an adult of a simple childish mind, which through his tenderhearted empathy and imagination bears the role of a seer or writer.
A prolific author, he won a number of awards, including the Gyldendal's Endowment in 1943, The Nordic Council's Literature Prize in 1963 for his novel The Ice Palace and the Venice Prize in 1953 for The Winds. He was mentioned as being considered for the Nobel Prize for Literature on three separate occasions (1964, 1968 and 1969). Several of his books have been translated into English – many of them published by Peter Owen Publishers– among them Spring Night, The Birds, Through Naked Branches, and The Ice Palace.
THERE'S ROWING AND ROWING
Tarjei Vesaas
The day is past –
and there's rowing and rowing
The dark mass of rock,
darker than the evening,
leans over the water
with black folds:
A caved-in face
with its mouth in the lake.
No one knows all.
There's rowing and rowing,
in rings,
for the rock sucks.
Confused splashes on deep water.
Exhausted creaks from wood.
Confused and faithful soul that rows
and soon can be sucked down.
He too stands there
the other,
the one in the rock-folds
in blacker than black,
and listens outwards.
Paralyzed with shame.
Stiffly listening.
Stiff with fright
for here there's rowing.
Then there must be gusts and blue-gleaming
back and forth
like warm breezes
and like frost.
There's rowing and rowing tonight.
There's no one seeing and seeing.
No one knows
who licks at the rock
when it is dark.
No one knows the bed
of Lake Angst.
No one knows
who it is that cannot row.
=======
WHERE THE FLAME WAS BURNING
Tarjei Vesaas
By the long grey road
there is ash after a fire gone out
and signs of departure
in dust and heat.
That is all.
But the flame that burned
in the circle of the travelers
whirled only before the eye
in unextinguished longing.
They were traveling for a dream
and could give all,
and must go on in their searchings
and their unease,
and the bonfire burned on
in every edge of sight,
whilst new searchers dug in the ashes
and in the ground under the ashes,
and it is dream
that is happiness
for those journeying.