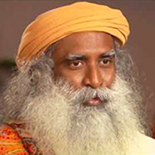 Jaggi Vasudev, also known as Sadhguru, is an Indian yogi and mystic.
Jaggi Vasudev founded the Isha Foundation, a non-profit organization which offers yoga programs around the world, including India, United States, England, Lebanon, Singapore, Canada, Malaysia, Uganda and Australia. The Foundation is also involved in various social and community development activities, which have resulted in the Foundation being granted special consultative status with the Economic and Social Council of the United Nations.
Born in Mysore, Karnataka on September 3, 1957, he was the youngest of the Vasudev's four children. At a young age, Jagadish, or Jaggi as he came to be known, developed an interest in nature and would frequently make trips into nearby forests which would sometimes last up to three days at a time. At the age of 11, Jaggi came in contact with Malladihalli Sri Raghavendra Swamiji who taught him a set of simple yoga asanas, the practice of which he regularly maintained.