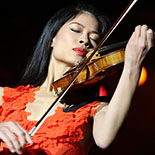 Vanessa-Mae Vanakorn Nicholson (born October 27, 1978), known professionally as Vanessa-Mae, is a Singaporean-born British violinist and alpine skier
She is of Thai and Chinese descent. Her musical style is self-described as "violin techno-acoustic fusion", as several of her albums prominently feature the techno style with the classical style. A former child prodigy, she became a successful crossover violinist with album sales reaching several million, having made her the wealthiest young entertainer in the United Kingdom in 2006.
She competed for Thailand at the Sochi 2014 Winter Olympics in alpine skiing.