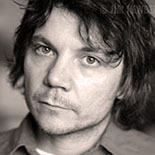 Jeffrey Scot "Jeff" Tweedy (born August 25, 1967) is an American songwriter, musician, record producer and leader of the band Wilco.
Tweedy joined rockabilly band The Plebes with high school friend Jay Farrar in the early 1980s, but Tweedy's musical interests caused one of Farrar's brothers to quit. The Plebes changed their name to The Primitives in 1984, and subsequently to Uncle Tupelo. Uncle Tupelo garnered enough support to earn a record deal and to tour nationally. After releasing four albums, the band broke up in 1994 because of conflicts between Tweedy and Farrar.
Jeff Tweedy has been the recipient of two Grammy Awards, including Best Alternative Album for A Ghost Is Born. Tweedy has also participated in a number of side groups including Golden Smog and Loose Fur, published a book of poems, and released a DVD of solo performances. He was originally influenced by punk and country music, but has later reflected more experimental themes in his music.
YOU ARE NOT ALONE
Lyrics by Jeff Tweedy
You're not alone
I'm with you
I'm lonely tooWhat's that song
Can't be sung
By two?A broken home
A broken heart
Isolated and afraid
Open up this is a raid
I wanna get it through to you
You're not aloneYou're not alone
Every night
I stand in your placeEvery tear
On every face
Tastes the sameA broken dream
A broken heart
Isolated and afraid
Open up this is a raid
I wanna get it through to you
You're not aloneAn open hand
An open heart
There's no need to be afraid
Open up this is a raid
I wanna get it through to you
You're not alone
I wanna get it through to you
You're not alone
I'm gonna get it through to you
You're not alone