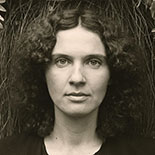 Joyce Tenneson (born May 29, 1945) is an American fine art photographer.
She is known for her distinctive style of photography, which often involves nude or semi-nude women. Tenneson shoots primarily with the Polaroid 20×24 camera. In an interview with a photography magazine, Tenneson advised artists: "I very strongly believe that if you go back to your roots, if you mine that inner territory, you can bring out something that is indelibly you and authentic – like your thumbprint. It's going to have your style because there is no one like you." As a child, her parents worked on the grounds of a convent. She and her sister "were enlisted to be in holiday pageants and processions. It was a mysterious environment – something out of Fellini – filled with symbolism, ritual, beauty, and also a disturbing kind of surreal imagery."
Her work has been displayed in more than 100 exhibitions around the world. Tenneson has had cover images on several magazines including Time, Life, Entertainment Weekly, Newsweek, Premiere, Esquire and The New York Times Magazine.