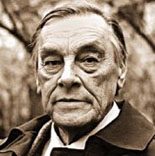 Arseny Alexandrovich Tarkovsky (June 24, 1907 – May 27, 1989) was a Soviet poet and translator, considered one of the great twentieth century Russian poets.


A BLIND MAN
Arseny Tarkovsky
A blind man was riding an unheated train,
From Bryansk he was traveling home with his fate.
Fate whispered to him so the whole car could hear:
And why should you care about blindness and war?
It's good, she was saying, you're sightless and poor.
If you were not blind, you'd never survive.
The Germans won't kill you, you're nothing to them.
Allow me to lift that bag on your shoulder—
The one with the holes, the empty torn one.
Let me just raise your eyelids wide open.
The blind man was traveling home with his fate,
Now thankful for blindness. Happy about it.
========
TO POEMS
Arseny Tarkovsky
My poems: fledglings, heirs,
Plaintiffs and executors,
The silent ones, the loud,
The humble and the proud.
As soon as the shovel of time
Threw me onto the potter's wheel—
Myself without kith or kin—
I grew beneath the hand, a miracle.
Something stretched out my long neck
And hollowed round my soul
And marked on my back
Legends of flowers and leaves.
I stoked the birch in the fire
As Daniel commanded
And blessed my red temper
Until I spoke as a prophet.
I had long been the earth—
Arid, ochre, forlorn since birth—
But you fell on my chest by chance
From beaks of birds, from eyes of grass.