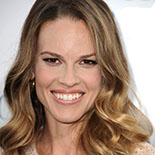 Hilary Ann Swank (born July 30, 1974) is an American actress. She has twice won the Academy Award for Best Actress and received a star on the Hollywood Walk of Fame in 2007.
Swank made her film debut in a minor role in the 1992 comedy film Buffy the Vampire Slayer before starring in her breakout lead role in the fourth installment of the The Karate Kid franchise The Next Karate Kid in 1994, alongside Pat Morita. On television, she was cast as part of the main cast in the eighth season of the drama series Beverly Hills 90210 as single mother Carly Reynolds from 1997 to 1998. Swank garnered critical acclaim for her portrayal of Brandon Teena in the 1999 biographical indie film Boys Don't Cry, which earned her the Academy Award for Best Actress and Golden Globe Award for Best Actress in a Motion Picture – Drama. She starred in Clint Eastwood's 2004 sports drama film Million Dollar Baby as struggling-waitress-turned-boxer Maggie Fitzgerald, which won her a second Academy Award and Golden Globe for Best Actress as well as the Screen Actors Guild Award for Outstanding Performance by a Female Actor in a Leading Role.
Her other films include, The Gift (2000), Insomnia (2002), Iron Jawed Angels (2004), The Reaping (2007), P.S. I Love You (2007), Freedom Writers (2007), the biographical aviation film Amelia (2009) and New Year's Eve (2011).