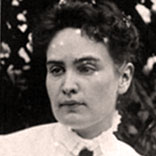 Johanna "Anne" Mansfield Sullivan Macy (April 14, 1866 – October 20, 1936), better known as Anne Sullivan, was an American teacher.
She is best known for being the instructor and lifelong companion of Helen Keller. Anne was an immigrant to the United States as a young child from Ireland. Anne Sullivan contracted an eye infection when she was eight years old which left her blind and without reading or writing skills. Anne received her education as a student of the Perkins School for the Blind where upon graduation she became a teacher to Helen Keller. Anne Sullivan was an exceptionally good teacher whose work is still recognized and spoken of today.
Anne Sullivan is the main character in The Miracle Worker, by William Gibson, originally produced for television, where she was portrayed by Teresa Wright. The play then moved to Broadway, and was later produced as a 1962 feature film. Both the Broadway play and 1962 film featured Anne Bancroft in the Sullivan role. Patty Duke—who played Helen Keller on Broadway and in the 1962 film version—later played Sullivan in a 1979 television remake. Alison Elliott portrayed her in a 2000 television movie. Alison Pill played Sullivan on Broadway in the short-lived 2010 revival of The Miracle Worker, with Abigail Breslin as Keller.
Both Anne Bancroft and Patty Duke won Academy Awards for Best Actress and Best Supporting Actress for their roles as Sullivan and Keller in the 1962 film version.