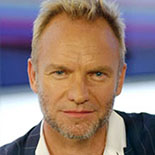 Gordon Matthew Thomas Sumner, (born October 2, 1951), better known by the stage name Sting is an English musician, singer-songwriter, multi-instrumentalist, activist, actor and philanthropist.
He is best known as the principal songwriter, lead singer, and bassist for the influential new wave rock band The Police and for his subsequent solo career.
Sting has varied his musical style, incorporating distinct elements of rock, jazz, reggae, classical, New Age, and worldbeat into his music. As a solo musician and member of the Police, Sting has received 16 Grammy Awards for his work, receiving his first Grammy for Best Rock Instrumental Performance in 1980, three Brit Awards – winning Best British Male in 1994, a Golden Globe, an Emmy Award, and several Oscar nominations for Best Original Song. He was inducted into the Songwriters Hall of Fame in 2002, and as a member of The Police, was inducted into the Rock and Roll Hall of Fame in 2003. In 2000, he received a star on the Hollywood Walk of Fame for recording.
Including his years with The Police, Sting has sold over 100 million records worldwide. In the UK, he has been awarded seven Platinum album certifications, three Gold and a Silver, and in the US, nine Platinum and three Gold certifications. In 2006, Paste magazine ranked him 62nd on their list of the "100 Best Living Songwriters". He was ranked 63rd on VH1's "100 Greatest Artists of Rock", and 80th on Q magazine's "100 Greatest Musical Stars of 20th Century". Sting has also collaborated with several other musicians for hit duets, including "Rise & Fall" with Craig David and the number one hit "All for Love", with fellow musicians Bryan Adams and Rod Stewart.
There is no rose of such virtue
As is the rose that bare Jesu;
Alleluia.
For in this rose contained was
Heaven and earth in little space;
Res miranda.
By that rose we may well see
That he is God in persons three,
Pari forma.
The angels sungen the shepherds to:
Gloria in excelsis deo:
Gaudeamus.
Leave we all this worldly mirth,
And follow we this joyful birth;
Transeamus.
Alleluia, res miranda,
Pares forma, gaudeamus,
Transeamus.