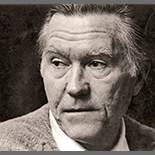 William Edgar Stafford (January 17, 1914 – August 28, 1993) was an American poet and pacifist, and the father of poet and essayist Kim Stafford. He was appointed the twentieth Poet Laureate Consultant in Poetry to the Library of Congress in 1970.
A MESSAGE FROM THE WONDERER
William Stafford
Today outside your prison I stand
and rattle my walking stick: Prisoners, listen;
you have relatives outside. And there are
thousands of ways to escape.
Years ago I bent my skill to keep my
cell locked, had chains smuggled to me in pies,
and shouted my plans to jailers;
but always new plans occurred to me,
or the new heavy locks bent hinges off,
or some stupid jailer would forget
and leave the keys.
Inside, I dreamed of constellations—
those feeding creatures outlined by stars,
their skeletons a darkness between jewels,
heroes that exist only where they are not.
Thus freedom always came nibbling my thought,
just as—often, in light, on the open hills—
you can pass an antelope and not know
and look back, and then—even before you see—
there is something wrong about the grass.
And then you see.
That's the way everything in the world is waiting.
Now—these few more words, and then I'm
gone: Tell everyone to remember
their names, and remind others, later, when we
find each other. Tell the little ones
to cry and then go to sleep, curled up
where they can. And if any of us get lost,
if any of us cannot come all the way—
remember: there will come a time when
all we have said and all we have hoped
will be all right.
There will be that form in the grass.
============
A STORY THAT COULD BE TRUE
William Stafford
If you were exchanged in the cradle and
your real mother died
without ever telling the story
then no one knows your name,
and somewhere in the world
your father is lost and needs you
but you are far away.
He can never find
how true you are, how ready.
When the great wind comes
and the robberies of the rain
you stand on the corner shivering.
The people who go by–
you wonder at their calm.
They miss the whisper that runs
any day in your mind,
"Who are you really, wanderer?"–
and the answer you have to give
no matter how dark and cold
the world around you is:
"Maybe I'm a king."
=========
THINKING FOR BERKY
William Stafford
In the late night listening from bed
I have joined the ambulance or the patrol
screaming toward some drama, the kind of end
that Berky must have some day, if she isn't dead.
The wildest of all, her father and mother cruel,
farming out there beyond the old stone quarry
where highschool lovers parked their lurching cars,
Berky learned to love in that dark school.
Early her face was turned away from home
toward any hardworking place; but still her soul,
with terrible things to do, was alive, looking out
for the rescue that–surely, some day–would have to come.
Windiest nights, Berky, I have thought for you,
and no matter how lucky I've been I've touched wood.
There are things not solved in our town though tomorrow came:
there are things time passing can never make come true.
We live in an occupied country, misunderstood;
justice will take us millions of intricate moves.
Sirens wil hunt down Berky, you survivors in your beds
listening through the night, so far and good.