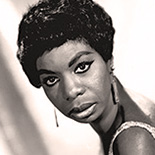 Nina Simone (born Eunice Kathleen Waymon; February 21, 1933 – April 21, 2003) was an American singer, songwriter, pianist, arranger, and civil rights activist widely associated with jazz music.
Simone aspired to become a classical pianist while working in a broad range of styles including classical, jazz, blues, folk, R&B, gospel, and pop.
Born the sixth child of a preacher's family in North Carolina, Simone aspired to be a concert pianist. Her musical path changed direction after she was denied a scholarship to the prestigious Curtis Institute of Music in Philadelphia, despite a well-received audition. Simone was later told by someone working at Curtis that she was rejected because she was black. When she began playing in a small club in Philadelphia to fund her continuing musical education and become a classical pianist she was required to sing as well. She was approached for a recording by Bethlehem Records, and her rendering of "I Loves You, Porgy" was a hit in the United States in 1958. Over the length of her career Simone recorded more than 40 albums, mostly between 1958—when she made her debut with Little Girl Blue—and 1974.
In the early 1960s, she became involved in the civil rights movement and the direction of her life shifted once again. Simone's music was highly influential in the fight for equal rights in the United States. In later years, she lived abroad, finally settling in France in 1992. She received a Grammy Hall of Fame Award in 2000 and was a fifteen-time Grammy Award nominee over the course of her career.
Black is the color of my true love's hair
His face is like roses so fair
He's the prettiest face
and the neatest of hands
I love the ground on where he stands
Oh I love my love
and this he knows
I love the ground on whereon he goes
If you no more on earth I see,
I can't serve you as you have me
The winters passed and the leaves are green
the time is passed that we have seen
But still I hope the time will come
when you and I will be as one
I go to the Clyde to mourn and weep,
but satisfied I never could sleep
I write you a letter
just a few short lines
I'll suffer death ten thousand times.
So fare you well my ain true love
The time has passed but I wish you well
But still I hope the time will come
When you and I will be as one.
I love my love and this he knows
I love the ground whereon he goes
He's the prettiest face and the neatest of hands,
I love the ground wereon he stands.