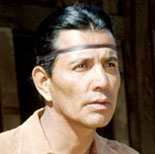 Jay Silverheels (May 26, 1912 – March 5, 1980) was a First Nations actor.
He was well known for his role as Tonto, the faithful Native American companion of the character, The Lone Ranger in a long-running American western television series.
Silverheels achieved his greatest fame as Tonto on The Lone Ranger. The fictional story line maintains that a small group of Texas Rangers, except for The Lone Ranger, were massacred. The Lone Ranger and Tonto then ride throughout the West to assist those challenged by the lawless element. Their expenses and bullets are provided through a silver mine owned by The Lone Ranger, who also names his horse "Silver". Being irreplaceable in his role, Silverheels appeared in film sequels: The Lone Ranger (1956) and The Lone Ranger and the Lost City of Gold (1958).
When The Lone Ranger television series ended, Silverheels found himself firmly typecast as an American Indian. On January 6, 1960, he portrayed an Indian fireman trying to extinguish a forest fire in the episode "Leap of Life" in the syndicated series, Rescue 8, starring Jim Davis and Lang Jeffries.
Eventually, he went to work as a salesman to supplement his acting income. He also began to publish poetry inspired by his youth on the Six Nations Indian Reserve and recited his work on television. In 1966, he guest-starred as John Tallgrass in the short-lived ABC comedy/western series The Rounders, with Ron Hayes, Patrick Wayne, and Chill Wills.
Despite the typecasting, Silverheels in later years often poked fun at his character. In 1969, he appeared as Tonto without The Lone Ranger in a comedy sketch on The Tonight Show Starring Johnny Carson. The sketch was featured on the 1973 record album Here's Johnny: Magic Moments From The Tonight Show. "My name is Tonto. I hail from Toronto and I speak Esperanto." In 1970, he appeared in a commercial for Chevrolet as an Indian chief who rescues two lost hunters who ignored his advice in that year's Chevy Blazer. The William Tell Overture is heard in the background.
Silverheels hilariously spoofed his Tonto character in a famous Stan Freberg Jeno's Pizza Rolls TV commercial opposite Clayton Moore, and in The Phynx, opposite John Hart, both having played The Lone Ranger in the original television series.
He appeared in three episodes of NBC's Daniel Boone, starring Fess Parker as the real life frontiersman.