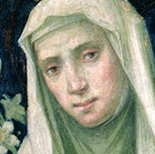 Saint Catherine of Siena (March 25, 1347 in Siena – April 29, 1380 in Rome) was a tertiary of the Dominican Order, and a Scholastic philosopher and theologian.
She also worked to bring the papacy of Gregory XI back to Rome from its displacement in France, and to establish peace among the Italian city-states. She was proclaimed a Doctor of the Church in 1970. She is one of the two patron saints of Italy, together with St. Francis of Assisi.
The 25th child of a wool dyer in northern Italy, St. Catherine started having mystical experiences when she was only 6, seeing guardian angels as clearly as the people they protected. She became a Dominican tertiary when she was 16, and continued to have visions of Christ, Mary, and the saints. St. Catherine was one of the most brilliant theological minds of her day, although she never had any formal education.
Catherine's letters, and a treatise called "a dialogue" are considered among the most brilliant writings in the history of the Catholic Church. She died when she was only 33, and her body was found incorrupt in 1430.
WE WERE ENCLOSED
Catherine of Sienna
We were enclosed,
O eternal Father,
within the garden of your breast.
You drew us out of your holy mind
like a flower
petaled with our soul's three powers,
and into each power
you put the whole plant,
so that they might bear fruit in your garden,
might come back to you
with the fruit you gave them.
And you would come back to the soul,
to fill her with your blessedness.
There the soul dwells—
like the fish in the sea
and the sea in the fish.