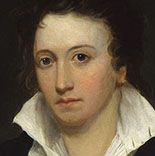 Percy Bysshe Shelley (August 4, 1792 – July 8, 1822) was one of the major English Romantic poets, and is regarded by some critics as amongst the finest lyric poets in the English language.
A radical in his poetry as well as his political and social views, Shelley did not achieve fame during his lifetime, but recognition for his poetry grew steadily following his death. Shelley was a key member of a close circle of visionary poets and writers that included Lord Byron; Leigh Hunt; Thomas Love Peacock; and his own second wife, Mary Shelley, the author of Frankenstein.
Shelley is perhaps best known for such classic poems as Ozymandias, Ode to the West Wind, To a Skylark, Music, When Soft Voices Die, The Cloud and The Masque of Anarchy. His other major works include long, visionary poems such as Queen Mab (later reworked as The Daemon of the World), Alastor, The Revolt of Islam, Adonaïs, the unfinished work The Triumph of Life; and the visionary verse dramas The Cenci (1819) and Prometheus Unbound (1820).
His close circle of admirers, however, included some progressive thinkers of the day, including his future father-in-law, the philosopher William Godwin. Though Shelley's poetry and prose output remained steady throughout his life, most publishers and journals declined to publish his work for fear of being arrested themselves for blasphemy or sedition. Shelley did not live to see success and influence, although these reach down to the present day not only in literature, but in major movements in social and political thought.
Shelley became an idol of the next three or four generations of poets, including important Victorian and Pre-Raphaelite poets such as Robert Browning and Dante Gabriel Rossetti. He was admired by Oscar Wilde, Thomas Hardy, George Bernard Shaw, Bertrand Russell, W. B. Yeats, Karl Marx, Upton Sinclair and Isadora Duncan. Henry David Thoreau's civil disobedience was apparently influenced by Shelley's non-violence in protest and political action. Shelley's popularity and influence has continued to grow in contemporary poetry circles.
LOVE'S PHILOSOPHY
Percy Bysshe Shelley
The fountains mingle with the river,
And the rivers with the ocean;
The winds of heaven mix forever
With a sweet emotion;
Nothing in the world is single;
All things by a law divine
In another's being mingle–
Why not I with thine?
See, the mountains kiss high heaven,
And the waves clasp one another;
No sister flower could be forgiven
If it disdained its brother;
And the sunlight clasps the earth,
And the moonbeams kiss the sea;–
What are all these kissings worth,
If thou kiss not me?
=========
PROMETHEUS UNBOUND
This is the day, which down the void abysm
At the Earth-born's spell yawns for Heaven's despotism,
And Conquest is dragged captive through the deep:
Love, from its awful throne of patient power
In the wise heart, from the last giddy hour
Of dead endurance, from the slippery, steep,
And narrow verge of crag-like agony, springs
And folds over the world its healing wings.
Gentleness, Virtue, Wisdom, and Endurance,
These are the seals of that most firm assurance
Which bars the pit over Destruction's strength;
And if, with infirm hand, Eternity,
Mother of many acts and hours, should free
The serpent that would clasp her with his length;
These are the spells by which to re-assume
An empire o'er the disentangled doom.
To suffer woes which Hope thinks infinite;
To forgive wrongs darker than death or night;
To defy Power, which seems omnipotent;
To love, and bear; to hope till Hope creates
From its own wreck the thing it contemplates;
Neither to change, nor falter, nor repent;
This, like thy glory, Titan, is to be
Good, great and joyous, beautiful and free;
This is alone Life, Joy, Empire, and Victory.