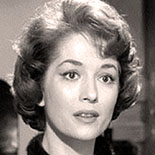 Barbara Shelley (born February 13, 1932) is an English film and television actress.
She was at her busiest in the late 1950s (Blood of the Vampire) and 1960s when she became Hammer Horror's number one female star, with The Gorgon (1964), Dracula, Prince of Darkness (1966), Rasputin, the Mad Monk (1966), and Quatermass and the Pit (1967) among her credits. Although she is known as a scream queen, in fact her most famous scream (in the aforementioned Dracula film) was dubbed by co-star Suzan Farmer.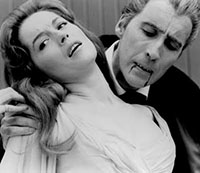 Shelley also appeared in Village of the Damned (1960), the very first Danger Man episode 'View From A Villa' (1960), Blake's 7 episode 'Stardrive' (1981), and in the Doctor Who serial Planet of Fire (1984).
In 2010, writer and actor Mark Gatiss interviewed Shelley about her career at Hammer Films for his BBC documentary series A History of Horror.