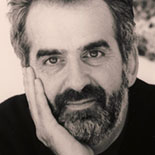 Aram Saroyan (born September 25, 1943) is an American poet, novelist, biographer, memoirist and playwright, who is especially known for his minimalist poetry, famous examples of which include the one-word poem "lighght" and a one-letter poem comprising a four-legged version of the letter "m".
There has been a resurgence of interest in his work in the 21st century, evidenced by the publication in 2007 of several previous collections reissued together as Complete Minimal Poems.
THE CLOCK IN LITERATURE
Aram Saroyan
"Would you mind
I headed up early?"
Says the husband
To his wife.
"Follow when you like."
Later that evening
The beautiful face
And exquisite limbs
Will rise from the table
Of the Southern inn
Having been spied
By the antihero
Across the room
Reading an indifferent book.
Oh, quick—
Let a storm kill the light!
But you might as well say it
To a wall.
We can't change
A single
Silver setting, or
Even by one day
Reduce
The bright full moon.
The clock in literature
Holds that moon.
"I know I can't say
A single thing to stop you."
Says the old man at table
To the suddenly risen girl.
"But sleep on it, will you?"
No now —
Not ever.
The clock in literature
Holds the ancient rune.
"I wonder if I might
Have a word with you,"
Says the antihero
To the lissome
Dark-eyed angel.