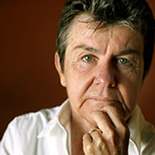 Kay Ryan (born September 21, 1945) is an American poet and educator. She has published seven volumes of poetry and an anthology of selected and new poems.
Ryan was the sixteenth United States Poet Laureate, from 2008 to 2010. She was named a 2011 MacArthur Fellow.
IN CASE OF COMPLETE REVERSAL
Kay Ryan
Born into each seed
is a small anti-seed
useful in case of some
complete reversal:
a tiny but powerful
kit for adapting it
to the unimaginable.
If we could crack the
fineness of the shell
we'd see the
bundled minuses
stacked as in a safe,
ready for use
if things don't
go well.
========
PINHOLE
Kay Ryan
We say
pinhole.
A pin hole
of light. We
can't imagine
how bright
more of it
could be,
the way
this much
defeats night.
It almost
isn't fair,
whoever
pocked this,
with such
a small act
to vanquish
blackness