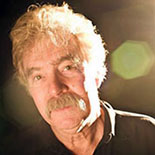 Tom Rush (born February 8, 1941) is an American folk and blues singer, songwriter, musician and recording artist.
Rush was born in Portsmouth, New Hampshire, the adopted son of a teacher at St. Paul's School, in Concord, New Hampshire. Tom began performing in 1961 while studying at Harvard University after having graduated from the Groton School. He majored in English literature. Many of his early recordings are versions of Lowland Scots and Appalachian folk songs. He regularly performed at the Club 47 coffeehouse (now called Club Passim) in Cambridge, the Unicorn in Boston, and The Main Point in Bryn Mawr, Pennsylvania.
His 1968 composition "No Regrets" has become an acknowledged standard, with numerous cover versions having been recorded (Rush did two radically different versions himself). These include The Walker Brothers, who gave Tom Rush a belated Top Ten exposure as a songwriter on the UK singles chart, Emmylou Harris, who included the song on her 1988 album Bluebird, and Midge Ure whose cover also made the UK Top Ten.