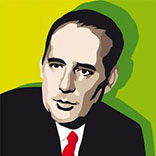 Roberto Gastone Zeffiro Rossellini (May 8, 1906 – June 3, 1977) was an Italian film director and screenwriter.
Rossellini was one of the directors of the Italian neorealist cinema, contributing films such as Roma città aperta (Rome, Open City 1945) to the movement.
Some authors describe the first part of his career as a sequence of trilogies. After his Neorealist Trilogy, Rossellini produced two films now classified as the 'Transitional films': L'Amore (1948) (with Anna Magnani) and La macchina ammazzacattivi (1952), on the capability of cinema to portray reality and truth (with recalls of commedia dell'arte). In 1948, Rossellini received a letter from a famous foreign actress proposing a collaboration: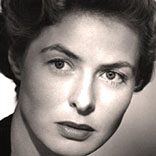 Dear Mr. Rossellini,
I saw your films Open City and Paisan, and enjoyed them very much. If you need a Swedish actress who speaks English very well, who has not forgotten her German, who is not very understandable in French, and who in Italian knows only "ti amo", I am ready to come and make a film with you. Ingrid Bergman
With this letter began one of the best known love stories in film history, with Bergman and Rossellini both at the peak of their careers. Their first collaboration was Stromboli terra di Dio (1950) (in the island of Stromboli, whose volcano quite conveniently erupted during filming). This affair caused a great scandal in some countries (Bergman and Rossellini were both married to other people); the scandal intensified when Bergman became pregnant with Roberto Ingmar Rossellini. Rossellini and Bergman had two more children, Isabella Rossellini (actress & model) and her twin, Ingrid Isotta. Europa '51 (1952), Siamo Donne (1953), Journey to Italy (1953), La paura (1954) and Giovanna d'Arco al rogo (1954) were the other films on which they worked together.
In 1957, Jawaharlal Nehru, the Indian Prime Minister at the time, invited him to India to make the documentary India and put some life into the floundering Indian Films Division. Though married to Bergman, he had an affair with Sonali Das Gupta, a screenwriter, herself married to local filmmaker Hari sadhan Dasgupta, who was helping develop vignettes for the film. Given the climate of the 1950s this led to a huge scandal in India as well as Hollywood. Nehru had to ask Rossellini to leave. Soon after, Bergman and Rossellini separated.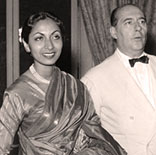 Rossellini eloped with married Sonali Das Gupta, when she was only 27 years old and later married her in 1957 and adopted her young son Arjun, renamed Gil Rossellini (23 October 1956 – 3 October 2008). Rossellini and Sonali had a daughter together, Raffaella Rossellini (born 1958), who is also an actress and model.
In 1973 Rossellini left Sonali for a young woman, Silvia D'Amico.
In 1971, Rice University in Houston, Texas, invited Rossellini to help establish a Media Center. In 1973, he was invited to teach at Yale University in New Haven, Connecticut, where he taught a one-semester course entitled "The Essential Image." Roberto Rossellini died of a heart attack aged 71 in 1977.