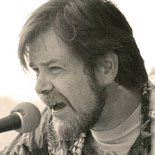 David Kenneth Ritz "Dave" Van Ronk (June 30, 1936 – February 10, 2002) was an American folk singer, born in Brooklyn, New York, who settled in Greenwich Village, New York, and was eventually nicknamed the "Mayor of MacDougal Street".
He was an important figure in the acoustic folk revival of the 1960s. His work ranged from old English ballads to blues, gospel, rock, New Orleans jazz, and swing. He was also known for performing instrumental ragtime guitar music, especially his transcription of "St. Louis Tickle" and Scott Joplin's "Maple Leaf Rag".
Van Ronk was a widely admired avuncular figure in "the Village", presiding over the coffeehouse folk culture and acting as a friend to many up-and-coming artists by inspiring, assisting, and promoting them.
Van Ronk received a Lifetime Achievement Award from the American Society of Composers, Authors and Publishers (ASCAP) in December 1997.