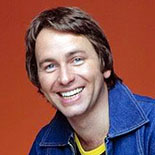 Jonathan Southworth "John" Ritter (September 17, 1948 – September 11, 2003) was an American actor.
Ritter was known for playing Jack Tripper on the hit ABC sitcom Three's Company, for which he won an Emmy and a Golden Globe Award in 1984. He was the son of country/western star Tex Ritter, and the father of actors Jason Ritter and Tyler Ritter.
Ritter appeared in hundreds of films and television shows/episodes combined (and performed on Broadway), including It (1990), Problem Child (1990), Problem Child 2 (1991) and Bad Santa in 2003 (his final live action film which was dedicated to his memory). Prior to Clifford's Really Big Movie (posthumously released), Ritter received four Daytime Emmy Award nominations for his voice work on the children's television series, Clifford the Big Red Dog, in addition to many other awards Ritter was nominated for or won. Don Knotts called Ritter the "greatest physical comedian on the planet".